Summer break is now halfway over!  Are you beginning to run out of fun activities for your kids to do?  Today we will give you ideas for indoor and outdoor activities that will keep your kids busy and while they make great memories on the last stretch of these summer days.
Take a Hike!
If you want to get out of the house and go on an adventure, then geo-caching is perfect for your family!  Use the GPS and compass apps on your phone to go on a real life treasure hunt.  Get the coordinates for caches near you at geocaching.com.
There are so many fantastic hiking trails in the Triangle including the Eno River State Park, Duke Forest, Bolin Creek Trail, Neuse River Trail, Umstead Park and more!  Going on a family hike involves less planning than geocaching but is still a fun way to see more of our beautiful state.   A color scavenger hunt around your neighborhood or town is another creative way to get exercise and look at familiar places in a different light.
Backyard Fun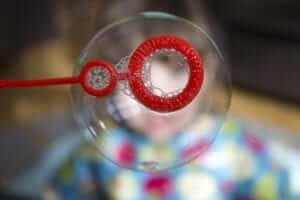 If you're wanting to keep your kids busy in the back yard, then here are some ways that they can play hard and get dirty — without dirtying up your house!  Just make sure to hose them down before letting them come back inside. ;-)
Make moon sand in a large bin by mixing together 9 cups of flour and 1 1/4 cups of baby oil.  Add cookie cutters, sand castle molds and more to keep your kids entertained for hours.
You can also make bouncing bubbles and break up the day while mixing up an old favorite activity!  Simply mix 1 cup distilled water with 1 tablespoon of dish soap and 1 teaspoon of glycerin and use your favorite bubble blowing device.  If you want to make giant bubbles, simply 10x the recipe and use cut off old t-shirt sleeves to form bigger bubbles.  Who doesn't love playing with bubbles?
A newspaper snowball fight is a fun way to get some energy out!  Just make sure to set ground rules, including clean up, before the "snow ball" fight begins.  Then give your kids old newspapers or mail flyers to ball up and have a pretend "snow ball" fight.  You can even make a spider web with painter's tape and have them throw the newspaper balls at the web to see if they can get their newspaper to stick!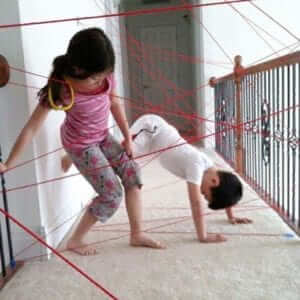 Inside Adventures
Stuck inside on a rainy day?  Or do you just need extra activities to keep your kids busy during the heat of the day? We've got you covered!
Try making a laser beam obstacle course in a hallway or between a large couch and a wall.  Your kids will get their energy out while staying occupied in a confined space — that's a win-win!  For longer-lasting results, involve your kids in making the obstacle course, and they'll be able to fix it when the tape inevitably starts to come off the walls.
Everything is more fun inside of a blanket fort!  Whether your kids enjoy reading, playing board games, making Lego creations or more, making a blanket fort in your living room or in their room is a fun way to mix up their environment and make fun memories.
Does your child enjoy baking or playing with playdough?  Then try making Jell-O playdough and cookies with just one recipe!  If your child loves mixing ingredients, then you should try making rainbow slime.  Simply mix equal parts liquid starch and glue together, divide, and add food coloring!  If you really want to mix things up, you can add glitter or glow in the dark paint to your slime.
Bonus tip: Make a boredom buster jar filled with these ideas and others!  Simply list an activity (or a chore) on a piece of paper and put it in a jar.  When your child says, "I'm bored," you can point them to the jar instead of figuring out what to do on the spot!