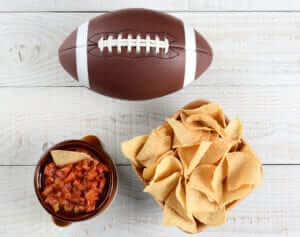 Are you ready to party?! This Sunday is Super Bowl 51, where the Atlanta Falcons will face off against the New England Patriots.
The last time the Falcons made it to the Super Bowl was way back in 1999, so it's been a long (and often hard) wait. After a rocky start to the season, the Patriots have fought their way back to the big game. Whether you're cheering for the underdog Falcons or the comeback Patriots, ladies and gentlemen, it is time to get our party on!!
You know Super Bowl parties are all about the food, so check out these mouthwatering menu ideas and get ready to party like a champ!
First Things First
Enjoy the pregame and kickoff with some adult beverages, like these simple Red, White and Blue Layered Shots for Patriots' fans. Or Falcons' fans can try this Dirty Shirley cocktail.  Into Jell-O shots?  These can be made to support the Falcons or the Patriots! You can also create the perfect drink for your party with Gatorade Jell-O shots!
The Main Event
Munch your way through the first quarter with tasty apps like Homemade Soft Pretzel Bites, Loaded Nachos, and Panko Mozzarella Sticks.
Got bacon lovers in the house? Serve up some Sweet and Spicy Bacon Wrapped Meatballs or Beer Candied Bacon (yes, beer-candied bacon is for real, and you must try it!).
Then enjoy the Super Bowl halftime show with these show-stopping Honey Mustard Fried Chicken Sliders and Easy Loaded Potato Bites.
And for Dessert?
Finish things off with some sweet-as-victory Atlanta Falcons or New England Patriots Rice Krispie Treats. Or make some fresh and festive Chocolate Covered Strawberry Footballs.
Be sure to check out our Super Bowl Party Pinterest board for more mouthwatering inspiration, and enjoy the game!