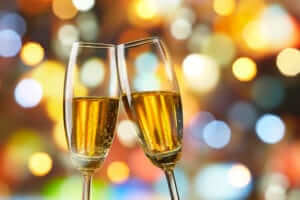 Are you as excited about the Academy Awards as we are?!  If you're looking forward to seeing the gowns, laughing with Jimmy Kimmel, and seeing La La Land win Best Picture (we can hope, right?), don't do it alone!  Here are tons of ideas on how you can throw an Oscar party fit for the stars!
Start off with a Bang
Use this free online official Oscars invitation to invite your friends to party in style.  Add some Oscar-themed flair to your house by spray-painting Mason jars or wine bottles gold.  Or wrap old film around battery-operated candles or votives to keep the movie theme involved.  Keep the wine theme going, and hand out sparkling wine in champagne flutes as your guests arrive.
Show Time!
Have these Rate the Red Carpet printables from Hey Let's Make Stuff ready and have fun seeing who's dresses are the favorites of the night.
Let's be honest, as much as we love the Academy Awards, waiting to see who wins Best Picture can get a little boring somewhere around Best Sound Editing.  Oscar Party Bingo can be played throughout the night, and Name that Best Picture can be made once and then recycled year after year and be kept fresh with just a few changes here and there.

Want to keep track of who's winning which award?  Print out this Free Oscar Ballot from bidvine!
What to Eat?
Wondering what to snack on all night?  Bring out these hummus and crudites shots and guacamole with star-shaped tortilla chips during the red carpet show.
Keep these cranberry meatballs warm in the Crock Pot all night so that your guests can go back for seconds…and thirds!
Once the awards start, bring out bacon-wrapped scallops and  beef and blue BLTs, which are sure to hit the spot.
Sweet Tooth
For dessert, serve chocolate-covered tuxedo strawberries!  Or, easily make these adorable popcorn cupcakes with marshmallows on top.
Really want to go all out?  Make these Dark Chocolate Raspberry Cakes in a muffin pan and wow your guests with the chocolate truffle drizzle presentation.
Enjoy your Oscar night, and check out our Pinterest Board for even more Oscar Party ideas!