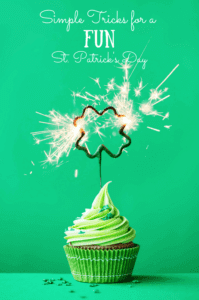 St. Patrick's Day is THIS Friday, and we can't wait to celebrate!  Whether you want to make this St. Patrick's Day fun for your kids or for you and your significant other (or both!), we've got you covered!
Here are the best foods, crafts and sweet treats for you to enjoy this Friday or all weekend long!
Start the Day Off Right
Surprise your kids with Lucky Charms pancakes and milk that's been dyed green.  Print off these place mats (and laminate them to use them for years to come).
You can even make rainbow fruit skewers to go along with breakfast (and make it a little healthier ;-).  Simply pick 5 different colors of fruit, put them on skewers, and you're done!
Craft Time
If your children enjoy making crafts, then they'll love these St. Patrick's craft ideas!  For younger kids, try this marshmallow stamping craft to work on fine motor skills.
If you're looking for a fun after-school craft for your school-aged children, here are two crafts that they can wear.  Older kids can make this Leprechaun Paper Plate Mask or Lucky Charms bracelet!
Luck of the Irish Dinner
For an easy meal that the whole family will love, throw this Slow Cooker Irish Guinness Beef Stew in the Crock Pot in the morning and let the slow cooker work its magic all day.  Or, make the classic Dublin Coddle instead.
Either way, be sure to bake this simple Irish Soda Bread with Orange Cream Cheese to go along with dinner.  Don't skimp on the cream cheese if you're saving some of the bread for breakfast.  With only 3 ingredients, you can be whip it up in just a few minutes!  Trust us, you won't regret it.
Sweet Tooth

End your night on a sweet note with any one (or more!) of these desserts.  The whole family will love these mint-flavored St. Patrick's Day muddy buddies.  Here's a kid-friendly Shamrock Shake recipe, and here's an adult-friendly Shamrock Shake recipe. ;-)
If you really want to celebrate this holiday to its fullest, make these Irish Car Bomb Cupcakes.  Even though they're made with Guinness in the batter, whiskey in the ganache and Bailey's in the frosting, these are surprisingly kid-friendly (though you might want to keep them all for your self).
Want more recipes, decoration tips and more?  Check out our St. Patrick's Day Fun Pinterest page!  How will you make St. Patrick's Day fun this year?