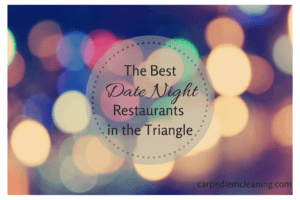 Looking for a new restaurant to take your sweetheart to on that special date night?  Here are our favorite restaurants in Durham and the Triangle with delicious food and that killer atmosphere that you and your date will love!  Don't forget to get reservations if you plan on visiting on a holiday or a busy night of the week.
Durham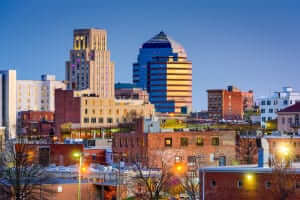 JuJu 737 Ninth St. #210
$$ – Contemporary Asian tapas
Order several small plates to share with your date!  The Braised Beef Short Tip Won Tons are to die for, and try sitting on the patio if the weather allows.
Mothers & Sons Trattoria 107 W. Chapel Hill St.
$$ – Seasonal Italian cuisine specializing in homemade pasta
Come prepared to try the Primi and Secondi courses.  The Bombolotti cacio e pepe is simple pasta at its finest, and the swordfish will make your night!
Nana's 2514 University Dr.
$$$ – Southern Regional Cuisine with European influences
You won't go wrong if you order the risotto with three types of mushrooms and truffle butter.  Nana's Truffled Chicken Liver pate is another staple in this classic Durham restaurant.
Sushi Love 2812 Erwin Rd. #204
$$ – Sushi rolls and Japanese steak and seafood
You can buy one get one free sushi rolls every day at Sushi Love!  The Durham Cares roll and the Sunrise Lava Roll are delicious, and order their Asian Pear martini to go with your meal.
Vin Rouge 2010 Hillsborough Rd.
$$$ – Authentic French cuisine
There's no place better in the Triangle to eat raw oysters or the hangar steak with blue cheese.  The bacon and gruyere macaroni and cheese is impeccable as well!
The Little Dipper 905 West Main St. #21A
$$$ – Local Full-Service Fondue
Try the Surf 'n' Turf entrée for two, which includes steak, lobster and ravioli.  Finish your night with the Mocha Amaretto fondue with marshmallows, strawberries and more!
Dos Perros 200 North Magnum St.
$$ – Upscale Mexican serving vegetarian, vegan and gluten-free cuisine
Start with the Plantain Fritters, and for dinner go with the Carnitas or Carne Asada!  Try the classic Top Shelf Margarita or mix things up with the spicy Hot Guava Margarita.
Raleigh
18 Seaboard 18 Seaboard
$$$ – Contemporary Southern, Locally-Sourced Grill
The menu changes often, but try the Big Rock Yellowfish Tuna or the Black Angus filet mignon if they're on the menu!  You can't go wrong with the Crème Brûlée of the Day for dessert.
Brasa Brazilian Steakhouse 8551 Brier Creek Pkwy
$$ – Authentic Brazilian Steakhouse and Salad Bar
At this all-you-can-eat steakhouse, put your rock on green if you want more meat, and put it on red if you want to take a break.  Try the pork, lamb or steak, and the coconut flan for dessert!
The Pit 328 W. Davie St.
$ NC Whole-Hog, Pit-Cooked Barbeque
Order the pulled pork or ribs, if you know what's good for you, and enjoy the complimentary hush puppies!  Try a local beer on tap to go with your meal.
Chapel Hill
Mint 504 W. Franklin St.
$$ – Contemporary Indian Cuisine
The portions at this restaurant are sizeable, and the garlic naan, tikki masala, or the chicken pasanda are to die for.  For dessert, try the delicious gulab jamun!
Lantern 423 W. Franklin St.
$$$ – Award-winning Locally-sourced Asian cuisine
While the menu changes frequently, the Poulet Rouge chicken and crispy whole black bass are worth ordering for dinner.  Try the warm chocolate cake for dessert or any of their amazing cocktails!
Carrboro & Pittsboro

Glass Half Full 106 S. Greensboro St., Carrboro
$$ – Contemporary American Kitchen & Wine bar
Start your meal with the charcuterie plate, and then order the duck confit or the crab mac and cheese.  Ask your server for recommendations for wine, or bring a bottle home with you from their shop!
Oakleaf 480 Hillsboro St., Pittsboro
$$$ – Sophisticated Farm to Table American Dining
The menu changes constantly, but order the steak or gnocchi if you can!  Ask the bartender for drink suggestions to go with your meal or try whichever crème brûlée is on the menu for dessert.
Cary & Apex
Lucky 32 Southern Kitchen 7307 Tryon Rd., Cary
$$ – Local Southern and American Cuisine
Start with the Voodoo Pig Bread, and order the catfish for dinner.  Make sure that you order a drink from their extensive wine and local beer list!
Little Hen 5160 Sunset Lake Rd., Apex
$$ – Modern Farm to table American dining
While the menu changes seasonally, the local cheese and meat plate appetizer is always a hit!  Try the locally-sourced pork for the main course and add one of their unique cocktails to your meal.
Sushi IWA 2026 Creekside Crossings Dr., Apex
$$ – Sushi Bar and Asian Restaurant
You can buy one get and one free sushi roll every day here, so check out the My Girl roll or any of the salmon rolls.  If you're not interested in sushi, try the bacon fried rice or the Imperial Chicken dish!
So, which one of these fabulous local restaurants will you go to next?