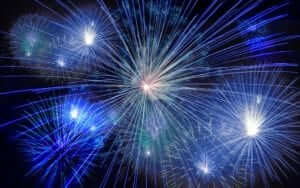 It's almost that time again!  The 4th of July is always a great time to celebrate our country's independence and the freedom that we enjoy year round.  What's a better way to celebrate than by watching fireworks with friends and loved ones?
Today we'll tell you where the best places to watch fireworks in the Triangle are so that you can pick the location nearest to you!
Durham – Durham Bull's Stadium
The Durham Bull's Stadium will have fireworks after the games on July 3rd, 4th, 7th and 8th this year.  Find this year's schedule here.  Come out and cheer for the Durham Bulls (and Wooly Bull!) and stay after the game to see the fireworks!  The stadium will open to the public for free in the 7th inning, so if you're not up for a whole baseball game, you can catch the end and still get a great seat.
Chapel Hill & Pittsboro – Kenan Stadium
If you're in Chapel Hill on the 4th, head on over to Kenan Stadium, home of the Tar Heel football team, for the best seats!  Doors open at 7pm, and fireworks start at 9:30pm, and there will be a watermelon eating contest, face painting, music and more!
Check out their website for more information.
Raleigh – Fayettville St.
Raleigh's 4th of July celebration lasts all day long!  For a fun-filled day, come to Fayettville St. to hear music, watch street and aerial performers, check out the hot dog eating contest, kids' zone, just to name a few.  This event will be held from noon to 11pm.  Fireworks will start around 9:30pm!
Find the schedule for the day on their website!
Make sure that you stay hydrated during these events by drinking plenty of water, and have a plan in place for parking your car before July 4th arrives.  Whether you celebrate 4th of July all day or just in the evening for fireworks, you're sure to have a blast!