Are you dreading the next snow day?  Don't want your kids to be cooped up in the house all day with nothing to do?  Here are 4 tips that will help you and your family have a blast on your next snow day and make great memories!
Bundle Up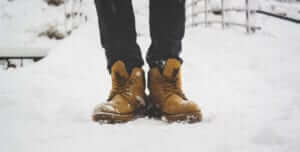 Go outside and play in the snow!  You'll make great memories with your kids and wear them out in the process.  Need more ideas of things to do outside?  Blow bubbles and watch them freeze if the temperature is under 32°!  Whip up some snow paint with just water, food coloring (or Kool Aid), and squirt bottles.

Burn It Off!
If your kids aren't worn out after playing in the snow, choose one of these awesome games to get them moving indoors.  First, grab an over-sized t-shirt for each child to wear, and stuff pillows inside.  Then clear out some space in your living room, and let them sumo wrestle!  Looking for an activity to do in a more contained space?  Make a laser beam obstacle course with your kids in a hallway and then watch in amazement how many times they'll go through it!  Use painter's tape, crepe paper or yarn and masking tape for easy clean-up.
Crafting FTW 
Need to do something a little quieter in the house?  3-D Snowflakes keep kids busy for ages, and older kids can do this craft by themselves after you show them how to do the first section of the snowflake.  If your kids enjoy science-themed activities, try making Borax Crystal Snowflakes with pipe cleaners!  Simply dissolve Borax in water and let the snowflake-shaped pipe cleaners sit in the Borax solution overnight.  The next morning, they'll be amazed at the crystals that formed and can play with their creation without it breaking!

Sweet Break
Don't forget to take a time out from your day to enjoy a sweet treat!  After all, a snow day is the perfect (and, really, the only) time to make Snow Ice Cream.  Make this dessert by mixing together milk, sugar, salt, vanilla, and, of course, lots of clean snow.  Want something to warm you up instead?  Check out this easy recipe for Elsa-inspired White Hot Chocolate that just calls for milk, white chocolate chips, vanilla and blue food coloring.  Don't forget to add Bailey's in mom or dad's hot chocolate or snow cream to take it to the next level! ;-)
Want to really get prepared for more snow days?  Check out this link with tips on how to make your own snow day box!   See our other blog post with even more tips on how to have a fun-filled, family snow day!