Is dust building up in the hard-to-reach places in your home?  We've all noticed cobwebs or a thin layer of dust that's just out of reach. When dusting (and cleaning in general!) you always want to start from the top and work down to the bottom of a room.  That way you won't spread dirt to places that you've already cleaned!  With that in mind, here are our top tricks to dusting hard-to-reach areas….
From Top …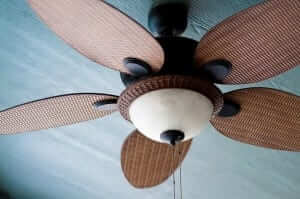 Ceiling Fans – Dust fan blades with an old cotton or flannel pillow case to avoid having dust fall in your face
Bathroom Fans – Use canned air or vacuum with your attachment to get rid of the dust between bathroom fan slots
Ceiling Corners and Above Kitchen Cabinets – Use your wand vacuum attachment to clean cobwebs in the corners or your rooms and to dust the tops of the books.
Walls, Doors, Ceilings and Door/Window Frames – Clean with a dry mop or a broom with a microfiber cloth rubber-banded on it to catch all of the dust.  Then toss the cloth in the washer and you're done!  You can use this same method to clean behind furniture or baseboards.
Blinds – Put an old, clean sock on your hand, sock puppet-style, to clean your blinds.
…To Bottom
Upholstered Furniture – Use the skinniest attachment on your vacuum to get between the crevices of your furniture. Take off all unattached cushions for the best results!
Behind Stove and Refrigerator – Move the appliances out and vacuum away any dust.  Unplug these if you can!
Baseboards – Use dryer sheets or microfiber cloths to remove dust either by hand or rubber banded onto a broom.
Bonus Tip – Before you dust your house, turn the "Fan" option on your A/C unit on.  It will suck up the extra dust in the air to your air filter instead of floating around in the air for you and your family to breathe in!
What deep cleaning dusting tips would you add to this list?